Lucerne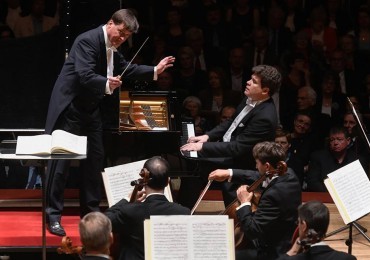 Russian pianist Denis Matsuev simply electrified the Lucerne stage with his performance. It is said that no other work of this genre demands more notes played per second; and indeed, there were times when Matsuev's hands were no more than a blur on the keys. ...
Der in Irkutsk geborene Denis Matsuev ist nicht nur einer der weltbesten Pianisten, sondern auch eine Schlüsselfigur im russischen Musikleben ganz allgemein. In Luzern spielte er das A-Dur Konzert von Liszt, zusammen mit der Sächsischen Staatskapelle Dresden unter ihrem Chefdirigenten Christian Thielemann. Dieser umrahmte das Konzert mit Ouvertüren eines Vorgängers an der Spitze des Orchesters, Carl Maria von Weber. ...
The superb Bavarian Radio Symphony Orchestra (BRSO) has had an annual residency at Lucerne's Easter Festival since 2004. Two years prior to that, Mariss Jansons had taken over the reins from Lorin Maazel as Chief Conductor, and he stands as a true measure of the festival's standard of excellence, the venue being the stunning Jean Nouvel-designed hall on the shores of Lake Lucerne. ...