A rich and powerful spectrum: Chailly conducts Rachmaninov in Lucerne
August 27 2019
Bachtrack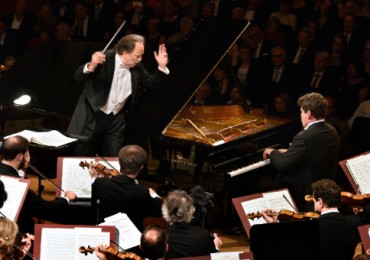 Russian pianist Denis Matsuev simply electrified the Lucerne stage with his performance. It is said that no other work of this genre demands more notes played per second; and indeed, there were times when Matsuev's hands were no more than a blur on the keys. His range of interpretation, from the dreamlike to the demonstrative, from the reticent through to the triumphant and brassy, showed him exploring all the colours of Rachmaninov's musical spectrum. He made the score as three-dimensional, as palpable as music can be. It comes as no surprise that when the composer's grandson recorded Rachmaninov's masterworks on the very piano his famous grandfather had played, his choice of pianist was Matsuev.
Matsuev was supported by a configuration of players second to none. The Lucerne Festival Orchestra musicians hold chairs in the world's finest orchestras and many enjoy distinguished solo careers. There was a moment in the first movement, for example, where the tempo gradually slowed, and in fairly quick succession, the flute, oboe and clarinet each had a brief solo, all of them consummately beautiful. Again and again as one resonant body, too, the strings' emotive work was extraordinary, enough, as the adage goes, to make even a brave man cry.
The first movement begins with the "Russian hymn" theme often equated with religious chant, although Rachmaninov himself insisted that there was no such connection. That said, the gentle, regular pulse of the orchestra at the start hardly foretells the dynamism and roller-coaster of complex moods to come. The second-movement Intermezzo opens with an orchestral introduction that gives the pianist the only respite in the entire concerto. The strings sounded almost interplanetary at the start, then the piano introduced playful syncopation, and the dialogue between piano and orchestra was interrupted several times afterwards by short piano solos. The concerto's Finale almost stunned with its majestic scope. Matsuev at one point jumped up to shoot out his suit-tails behind him; it was almost enough to elicit a cheer from the audience even before the thunderous applause at the conclusion.
Riccardo Chailly continued to show himself almost blood-bonded to this Lucerne configuration. Having succeeded Claudio Abbado as Music Director in 2016, his conducting is muscular and demonstrative, his footwork, solid, and his appreciation of the players' excellence, clearly visible. His broad grin at the end spoke volumes.
Sarah Batschelet
Bachtrack
Photo:Peter Fischli
« back
---