Superb Prokofiev from Matsuev, Kochanovsky and the Philharmonia
April 8 2019
Seen and Heard International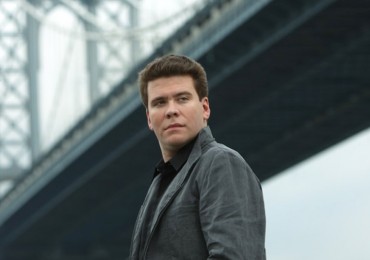 Whatever the many strengths of the Shostakovich, it was the terrific performance of Prokofiev's titanic Second Concerto that will linger on in the memory.
It is not a piece that comes out too often, for very good reasons: Valentina Lisitsa in 2015 was a bit of a casualty (review); no such words apply here for a master completely in charge of his instrument.
Denis Matsuev is rightly known for his power and technique (his disc 'Tribute to Horowitz' led to him being labelled MusicWeb 'Newcomer of the Month' in March 2005, when my review appeared).
All of that technique is still there, as well as a massive sense of muscularity to his playing. Off-the-cuff, throwaway ascending gestures were simultaneously preternaturally accurate as well as glistening in the first movement (echoed perhaps in the gossamer glissandi of the third); Matsuev's most notable achievement here was the huge cadenza, perfectly calibrated towards its climax.
The orchestra was under Stanislav Kochanovsky, who was replacing Yuri Temirkanov. St. Petersburg-born Kochanovsky is a superb accompanist, with Matsuev all the way, while allowing his orchestra to take centre-stage as appropriate. The Scherzo, the second movement of four, is marked Vivace. Lively it certainly was and taken at a clear Presto; the quicksilver reactions of Kochanovsky and his orchestra were remarkable. Throughout one could delight in Matsuev's fluency, in the simply massive left-hand octaves, or the legerdemain. A magnificent performance by a pianist at the height of his powers and with an inspired Philharmonia.
Matsuev's charming, beautifully leggiero encore was Sibelius, an unexpected delight: the Étude in A minor, the second of the 13 Pieces for Piano, Op.76. It stood in high contrast indeed to the drama-writ large of the Prokofiev (it is also a favourite Matsuev encore).
Perhaps there was just the feeling that the final stretch of the symphony did not really take off, but there is no doubting the musical intelligence of this conductor. The Philharmonia responded to Kochanovsky with some of their finest playing, and while the Prokofiev remains the highlight of the evening, one has to acknowledge the strength and consistency of Kochanovsky's vision of Shostakovich.
Colin Clarke
« back
---