Russian pianist Denis Matsuev brings technical brilliance, emotional intimacy to Tchaikovsky recital
March 8 2019
South China Morning Post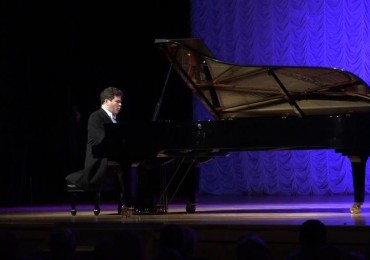 Denis Matsuev is the ideal pianist to perform Tchaikovsky's music for keyboard. The Russian married technical brilliance with emotional intimacy to bring out the tonal colours in his compatriot's works.
His choice of the opening work for his Hong Kong Arts Festival recital – Tchaikovsky's lightweight The Seasons – was ideal. He interpreted the 12 pieces that loosely depict the Russian months with poetry and finesse. Using rubato, he created an atmosphere of warmth and expansiveness in January's At the Fireside, and his boisterous chordal work in February's Shrovetide offered the perfect contrast. Rhythmic precision was a given, as Matsuev demonstrated in the frenetic August Harvest and the pictorial Song of the Lark (March), included fine staccato passages and lovely grace notes.
He captured the lightness and infectious charm of both April's Snowdrop and the elegant waltz-lilt in December's Christmas, and displayed tender vulnerability in his haunting readings of the June Barcarolle and October's desolate Autumn Song.
After the intermission, Matsuev moved into richer musical territory in Tchaikovsky's "Meditation", the fifth of his Eighteen Pieces. The emotional depth and transcendental musicality he brought to the peaceful Andante mosso movement left one craving the other seventeen. But, as if the "Meditation" were a natural segue, Matsuev launched straight into the evening's final work, Tchaikovsky's Piano Sonata in G Major, "Grand Sonata"
The composer called the sonata a "somewhat dry and complicated piece", but Matsuev handled the big, orchestral-like, double-dotted chords of the opening Moderato with complete conviction.
His lyricism in the melancholic Andante was wonderful and the quirky syncopated rhythms of the brief Scherzo, Allegro giocoso, were finely accentuated, even at his breakneck tempo. The difficult passagework (typical of Tchaikovsky) that dominates the galloping Finale, Allegro vivace, seemed a mere walk in the park for Matsuev as he concluded with an exuberant coda and a handful of entertaining encores.
« back
---