Reviews on Denis Matsuev's Performances in the USA
November 13 2017
Reviews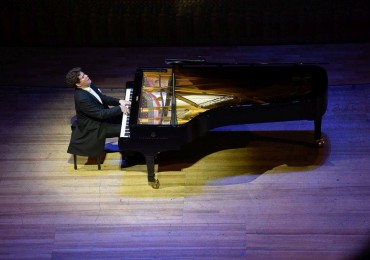 Valery Gergiev Leads Mariinsky Orchestra in All-Russian Concert
Next on the program was Sergei Prokofiev's Piano Concerto No. 2 in G minor, Op. 16, with Russian pianist Denis Matsuev as soloist. This was my first opportunity to hear Denis Matsuev, and he made quite an impression. Standing well over six feet tall, Matsuev is a broad-shouldered individual who towered over Valery Gergiev. Matsuev's keyboard manner exudes power, and Prokofiev's 2nd Piano Concerto offered Matsuev plenty of opportunities to show off his power. He was particularly impressive in the extended piano solo of the first movement. The second movement offered a brief, dizzying scherzo, and the third movement featured a loping rhythm throughout, making it sound as if pianist and orchestra were striding along side-by-side. The Finale offered shifting dynamics and a variety of moods, with wry humor predominating in the end. In response to the audience's hearty applause, Denis Matsuev showed off a more delicate side in one of Rachmaninoff's beautiful Preludes.
James Roy MacBean
Berkeley Daily Planet
http://www.berkeleydailyplanet.com/issue/2017-11-10/article/46237?headline=Valery-Gergiev-Leads-Mariinsky-Orchestra-in-All-Russian-Concert--Reviewed-by-James-Roy-MacBean-
***
Gergiev and Matsuev ripped Chicago on Wednesday, November 8
The magic continued through the entire night. For the next piece, a tall and strong man, with curly rich hair and a willful face, came to the stage. It was Denis Matsuev, called by some Siberian Bear, a man who knows how to get from his favorite instrument, the piano, really soft as well as really sharp and strong sounds. It seemed like the only parts of his body that he didn't use to press piano keys were his knees; the rest of his body, though, was on top of it. Accompanied by the Mariinsky Orchestra, Matsuev presented the toweringly difficult Piano Concerto No. 2 in G Minor by Sergei Prokofiev.
Gergiev and Matsuev admitted more than once that they feel each other when they play music; they demonstrated this artistic connection one more time in Chicago. Matsuev presented the intensive emotion and dramatism of this piece with his every muscle, every nerve and every touch. He managed to use a tissue in between difficult passages and wiped his face, which was lit up with a deep spirit and a high level of emotional output. The audience watched him furiously. I saw one man cry. The electricity in the Symphony Center was not needed anymore. Matsuev was the plant producing it for the building that night.
After a loud circle of applause, Matsuev presented another bright side of his talent. His encore, Rachmaninoff's Etude-Tableau, Op. 39, No. 2, was a touching sensitive piece that contrasted with Prokofiev's Concerto No. 2. Matsuev's fingers didn't seem that powerful anymore; instead, they were tender and loving, presenting to the audience warm and poetic sounds. This presentation was again met enthusiastically, and soon Matsuev left. The audiences had a chance to rest from his unbelievable presentation and discuss these unbelievable Russians, who brought this extreme energy, spirit, love and professionalism to Chicago. Everyone was anticipating the second part of the concert.
Natalia Dagenhart
https://patch.com/illinois/naperville/s/ga3kl/gergiev-and-matsuev-ripped-chicago-on-wednesday-november-8
***
Gergiev/Matsuev Review- The Mariinsky Orchestra at Symphony Center, Chicago
The original score of this complex piece was destroyed in a fire following the Russian Revolution. Prokofiev reconstructed and thoroughly revised it in 1923; it's considered to be one of the most technically formidable piano concertos in the standard repertoire. Some critics claim this is a work of genius, others a monstrosity; certainly it's a powerful and impressive piece.
The 4 movements are arranged in an unconventional way; there is no "slow" movement. While the first movement begins with a lyrical and delicate theme, it transforms into an almost overwhelming and technically ferocious cadenza for solo piano, the orchestra reentering near the end. The Scherzo that follows is very rapid, with a sense of perpetual motion required by the pianist, and the Orchestra adding bursts of brief and welcome color. The Intermezzo contains a repeating bass line overlaid by a fierce march. Finally, the piano seems to spar with the Orchestra in a discordant and unremitting series of harmonics.
Matsuev dominated the instrument with authority in the enormity of the first movement and continued the performance with a will, a fully developed artist taking on a daunting challenge. The Orchestra was focused, responsive and reflective. Gergiev, his fingers fluttering, and sans podium or baton, often stepped toward the musicians as though to encourage or draw forth even more sound and effort. The first movement, in particular, was a joint display of sonority; the finale brought an emotionally cohesive culmination.
Coming back to the piano after the storm of the Prokofiev, Matsuev's fingers flew over this piece, also known as "The Sea and the Seagulls." A powerful, moving and tragic work, it contains a contrasting central section building to a climax that falls away before the reprise of the opening. It evoked gentle, deep and profound grief. Filled with multiple musical textures, and requiring crossed hands as well as a characteristic Rachmaninov left-handed "Dies Irae" chant, it's a panorama of virtuosic fingering.
Debra Davy
http://amsterdam.splashmags.com/index.php/2017/11/10/gergievmatsuev-review-the-mariinsky-orchestra-at-symphony-center-chicago/
« back
---