Review Digest on Denis Matsuev's US-Canada Tour
October 22 2019
Digest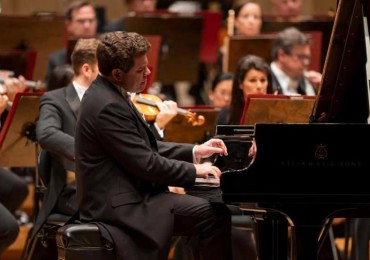 From review «Denis Matsuev et l'alignement des astres» for LeDevoir from Christophe Huss
Aujourd'hui, le nombre de grands virtuoses a augmenté, mais Denis Matsuev est un phénomène à part en matière de maîtrise de tous les paramètres avec cette solidité d'airain. Vivre une telle Sonate en si mineur en vrai, c'est un peu comme se trouver le jour d'une éclipse du soleil avec un ciel totalement dégagé à l'endroit précis de la planète où le phénomène est total.
Phénomène, vision idéale, parfaitement équilibrée, tant dans les différents registres et rapports de puissance (qui ne fut pas tapage) que dans les répits. Une approche devenant magique dans un fugato central diabolique et une fin d'une douceur inattendue.
Le mot clé de cette interprétation fut « concentration », dans la tenue du propos, la maîtrise des moyens, mais aussi la distinction des épisodes plus tendres.
________
From review «Montreal Symphony Orchestra review: Profound Bartok, brilliant Rachmaninoff in Greatest Hits night at Orchestra Hall» for Chicago Tribute from Howard Reich
We hear Rachmaninoff's music addressed by all kinds of soloists, but rarely by one with as much tonal depth, interpretive authenticity and high-toned craftsmanship as Matsuev produced in these variations. This was Rachmaninoff in the Rachmaninoff manner: immense in scale, technically audacious and thick with Russian ardor.
Yes, Matsuev yielded a greater sense of nostalgia and tenderness than we associate with Rachmaninoff's recordings, which convey an icy brilliance. But every note Matsuev played rang true.
____________
From review «Russian Pianist Denis Matsuev Dazzles In Impressive Program Of Liszt And Tchaikovsky» for Ludwig van Toronto from Stephan Bonfield
Matsuev knows how to enjoy himself, and he convinces his audiences to go along with him, effectively transporting them/us back to a time when the name Mephisto meant something wild, fantastical, literary, fiendishly attractive in its boldly virtuosic character sketching, but above all, straight to a summit of Romantic imagination. Matsuev does more than interpret — he re-incarnates an entire nineteenth-century cultural galaxy.
From the meditatively serene to the impossibly bombastic, the four pieces covered it all and showed the incredible breadth Matsuev easily brought to his recital. As he climbs every mountain of repertoire, it is small wonder at this point in his career that he needs to play tour-de-force sonatas of both Liszt and Tchaikovsky on the same program to keep it all fresh and interesting, not only for us, but for him as well.
Who knows what Matsuev will try next.
____________
From review on concert in New York (Carnegie Hall) «Thunder and lightning» for The New Criterion from Jay Nordlinger
The Liszt Sonata has thunder and lightning, yes, but it also has rumination. In these sections, Matsuev embroidered melodies with delicate, sparkling passagework… This was a singular, memorable Liszt Sonata. I would not have believed it if I hadn't heard it.
« back
---