Passions erupt in Rachmaninov and Prokofiev's Powerhouse Second Piano Concertos
December 14 2017
Primephonic.com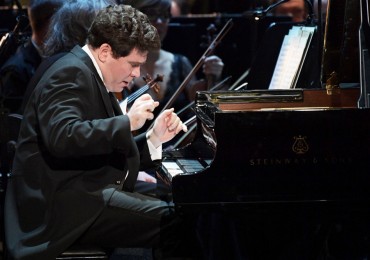 Denis Matsuev's partnership with Valery Gergiev's Mariinsky Orchestra on the orchestra's own label has produced one of the must-have series of Russian piano concertos in recent years. This seventh offering finds the collaboration at its height with the pairing of the Second Piano Concertos by Rachmaninov (the First and Third already available) and Prokofiev (the Third previously released).
Completed 12 years apart – Rachmaninov's in 1901, Prokofiev's in 1913 – both are emotionally combustible powerhouses that blaze with passion and bravura virtuosity. Together, they are a high-wire, hi-octane combination that tests the courage and stamina of pianist and orchestra alike, challenges Matsuev and Gergiev respond to with athleticism and energy in a vivid recording (the piano bright and bold) that leaps out of my well-rounded Cambridge Audio R50 speakers with compelling immediacy.
Matsuev sets the tone for the Rachmaninov with mounting urgency in the repeated opening chords – a steely declaration of intent – before the first great wash of orchestral colour. The effect is like a dam bursting – much as its writing must have seemed to the composer, newly emerging from four years of professional and personal trauma.
There's a wonderful, liquid ebb and flow to Matsuev's playing as passions surge and seethe, taken up by Gergiev and his wholly committed Mariinsky musicians in great tidal waves of emotion and sound. Which is not to say nuance and poetry have been sacrificed. The middle-movement Adagio sostenuto has seldom been bettered on disc (even in Matsuev's estimable 2013 recording with Alan Gilbert's New York Philharmonic on RCA Red Seal), the piano silky and sensuous, its famously yearning melody beautifully supple and lyrical; the orchestral accompaniment rich in detail. Similarly, the rapturous romance of the finale, where soloist and orchestra play with telling reciprocity and well-judged passion and drama.
Composed in memory of a friend who had committed suicide, the emotional landscape of Prokofiev's tempestuous Second Concerto offers a decidedly more fraught experience. Yet it, too, is marked by out by thrilling virtuosity. Throughout, Matsuev describes feeling and form – both in a constant state of flux – with unerring certainty. Gergiev adroitly keeps his forces in step, knowing when to prompt and provoke, when to offer support and succour.
It's a performance of enthralling musicality marked by ripe, declamatory rhetoric – Matsuev bringing an imposing dignity and chill grandeur to the rollercoaster piano line, Gergiev's accompaniment animated and muscular, neither ever erring on the side of over-statement.
Exhausting. But hugely rewarding.
Rating:
Performance: five stars
Sound: five stars
Rachmaninov: Piano Concerto No. 2; Prokofiev: Piano Concerto No. 2 (1923 version)
Denis Matsuev, Mariinsky Orchestra / Valery Gergiev
Mariinsky Label MAR0599
Michael Quinn
Michael Quinn is a former deputy editor of Gramophone and Classic FM magazines and associate editor of The Classical Review. He has been widely published in print and online in the UK, USA, Australia and his native Ireland, where he is artistic assessor of music and drama with the Arts Council of Northern Ireland and programming consultant to the region's newest arts centre, Portico, Portaferry. He is also the author of more than 450 concert and CD programme notes.
https://www.primephonic.com/news/news-passions-erupt-in-rachmaninov-and-prokofievs-powerhouse-second-piano-concertos
« back
---