LSO/Gianandrea Noseda – Russian Roots – Denis Matsuev plays Sergei Prokofiev's Second Piano Concerto
November 7 2019
classicalsource.com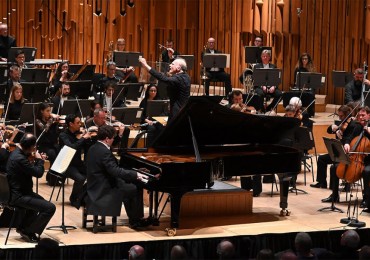 One of the many names of the Beast should be Sergei Prokofiev's Piano Concerto No. 2, a no-holds-barred celebration of virtuosity that the Russian barn-stormer Denis Matsuev has made his own. Confronted with this degree of alpha-male swagger, technique and stamina, resistance was futile.
It was easy to goggle, visually as much as aurally, at Matsuev's mastery, yet, compared with his blockbuster performance earlier this year, this one had a dark, Russian grandeur – the Concerto's opening slip in G minor lyricism kept you guessing about his approach, and he then went on to build the massive first movement into a cataclysmic statement of power in the cadenza, unequivocally the destination of the music so far.
He was positively possessed in the Soviet brutality of the Intermezzo, about as far as you can get from the Brahms concept of the title, and there was an unmistakable whiff of detumescent tristesse in the relaxation after the finale's cadenza. Admiration of his ultra-clean pedalling and apparent laconic ease aside, it was also gripping to observe the Matsuev hands at work – the ergonomic efficiency of technique, the economy of means behind the big sounds, and his keeping a lid on flamboyance until the very end when the glissandos dragged him to his feet into Noseda's embrace – rehearsed or spontaneous, he did the same in the earlier performance – which released a rock-concert-style roar of approval from the audience. For his encore, he played Lyadov's Music Box (a valse badinage), adding his own rallentando as the clockwork ran down.
« back
---