LSO and Noseda explore Russian Roots in London
November 3 2019
SeenandHeard-International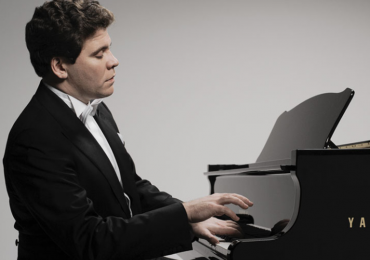 Given the adrenaline, athleticism and endurance that a pianist must summon simply to get through the score of Prokofiev's Second Piano Concerto, let alone to play the notes with such astounding accuracy as we heard here at the Barbican Hall, Denis Matsuev cut a startlingly unruffled figure as he seated himself at the piano. Thirty minutes later – almost, it seemed, as his hands were whipping the closing chords of the Finale tempestoso – he leapt to his feet and rushed to embrace Noseda. If he'd worked up a sweat performing what is one the most technically demanding of all piano concertos, then his urbane calm revealed no hint of it. It was a remarkable performance: after all, one critic at the September 1913 premiere, at which the student Prokofiev was himself the soloist, remarked that the concerto left its listeners 'frozen with fright, hair standing on end'.
Admittedly, it's a work that Matsuev performs regularly, describing it as 'Prokofiev's Everest' and in 'first place among all piano concertos'. It demands gold-plated technical assurance and a combination of a sprinter's muscular strength and a marathon-runner's stamina. Matsuev displayed both. The Scherzo was dazzling, the finger-work dizzyingly deft; the Finale tempestoso was dark and intense, sometimes angry, and the folky stamp made its mark. Matsuev doesn't always resist the temptation to hammer the keys, though there is never any loss of utmost clarity and precision; and, the potency of his sound was appropriately monumental in the first-movement cadenza which escalated with ever more insistent drama into an explosive dissonance that it took the full might of the LSO to momentarily quell. The Barbican Hall piano fortunately passed its own tests of stamina and sturdiness.
Matsuev's encore was thus a palette cleansing wisp of cool air and grace: Lyadov's Music Box. After the deluge, such delicacy – a whispering keyboard touch and suavely subtle pedalling – was magical.
Claire Seymour
Seenandheard-international.com
« back
---