Valery Gergiev, Denis Matsuev and the Mariinsky Orchestra
October 26 2017
CSO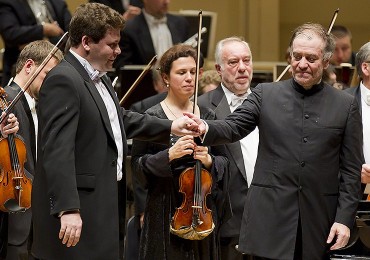 Though born a generation apart, conductor Valery Gergiev and pianist Denis Matsuev are longtime collaborators. The general director and artistic director of the Mariinsky Theatre, Gergiev returns with the Mariinsky Orchestra for an SCP Orchestra Series concert Nov. 8, featuring Matsuev as soloist in Prokofiev's Piano Concerto No. 2. Also on the program are Shostakovich's Symphony No. 9 and Strauss' Ein Heldenleben.
"Sometimes I have the impression that Gergiev has the ability to control time and even to stop it," Matsuev said in a recent interview for Sounds & Stories. "When he performs with a soloist, it looks like he foresees the soloist's every slight movement, and this gives a soloist the feeling of absolute understanding."
Regular visitors to Symphony Center, the Mariinsky Orchestra and Gergiev appeared with Matsuev in the 2010-11 season for a program of Rachmaninov's Piano Concerto No. 3 and Shostakovich's Symphony No. 15.
« back
---